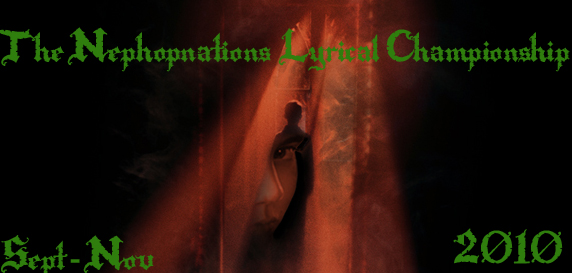 Rules:
No Biting, ghostwriting, recycling etc..
Verses are due week from today and Checkins are due verses
All members must vote in each battle, if somebody dosent vote, than a substraction of 1 vote each will be made.
No bullshitting, freeposting, etc.
house rules apply
10 lines per round and only one verse in a round
Good luck yall.
Heavyweight Member




Posts

: 427


Location

: Your Mom


Power Points

: 136

---


-----------------


Battle Record

:


(0/1)



Member





Posts

: 75


Power Points

: 82

---


-----------------


Battle Record

:


(0/0)



Fatboy, u aint baggin no chicks, i got game to bag 9 wives,
you a pu**Y, merked(marked) u so many times, u must have 9 lives,
yo skills is mediocre, u know they aint paying the bills,
your marks must have been shut off, cuz u dont "blaze" and u certaintly aint ill,
u aint dope, u equivalent to oregano, i slang uncut CRACK,
the early 90s called, and they want their hoop earings back.
lev 1 im at another phaze, yo i deserve a raise,
u huffin and puffin, probably f**ck around and have a coronary on stage,
I rattle cats, but when its you I shake pussies
Ya battles raps counterfeit like coppin some fake stussy
Member





Posts

: 75


Power Points

: 82

---


-----------------


Battle Record

:


(0/0)



The last nigga wins
Mark no shows
Locked
Heavyweight Member




Posts

: 427


Location

: Your Mom


Power Points

: 136

---


-----------------


Battle Record

:


(0/1)





Similar topics
---
Permissions in this forum:
You
cannot
reply to topics in this forum