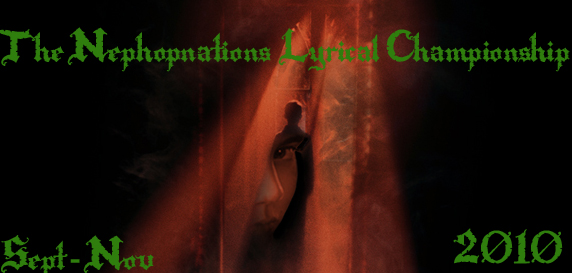 Rules:
No Biting, ghostwriting, recycling etc..
Verses are due week from today and Checkins are due verses
All members must vote in each battle, if somebody dosent vote, than a substraction of 1 vote each will be made.
No bullshitting, freeposting, etc.
house rules apply
10 lines per round and only one verse in a round
Good luck yall.
Heavyweight Member




Posts

: 427


Location

: Your Mom


Power Points

: 136

---


-----------------


Battle Record

:


(0/1)



is he even online animore?
anyways.
check
Member





Posts

: 55


Power Points

: 64

---


-----------------


Battle Record

:


(5/2)



You should feel ashamed on da net dickridin' lil wayne
manbearpig fa real??? Kid ya lame... get a different name
you dancin' wit da devil bitch.... expect to die
my 'mac-a-rena' thousand rounds.... I wont let Pigbitch-Slide
Your nuttin to flex... Im jus havin some fun
he's a whore... he's 3(and)4 and hes been battlin' bums
but after its done and over... and the votes are in
when this pu**Y looses any and all hope to win
ima' retort with " No showin whore why U in battle site?
but im in my textin' prime... now who's next in line"
Member





Posts

: 55


Power Points

: 64

---


-----------------


Battle Record

:


(5/2)



Osama wins
Manbear pig now shows
Locked
Heavyweight Member




Posts

: 427


Location

: Your Mom


Power Points

: 136

---


-----------------


Battle Record

:


(0/1)




---
Permissions in this forum:
You
cannot
reply to topics in this forum