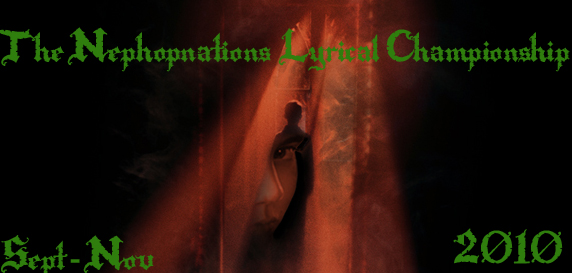 Rules:
No Biting, ghostwriting, recycling etc..
Verses are due week from today and Checkins are due verses
All members must vote in each battle, if somebody dosent vote, than a substraction of 1 vote each will be made.
No bullshitting, freeposting, etc.
house rules apply
10 lines per round and only one verse in a round
Good luck yall.
Heavyweight Member




Posts

: 427


Location

: Your Mom


Power Points

: 136

---


-----------------


Battle Record

:


(0/1)



Regular Member




Posts

: 116


Location

: CANADA


Power Points

: 128

---


-----------------


Battle Record

:


(7/2)



u don't need punchlines, just need to give ya words edit
just like his old played style, dude named himself The Rellik
i'm an oblivion.. sorta like a road block, make Osama just pause
coz he thinks he's fly.. by tryna be the hip-hop Santa Clause?
audio heads stick to mics, on text your luck's tough
we know ya don't get pu**Y, so like ya siggy just 'shut the f**ck up'
i know my shit's pretty half-assed, but Osama won't win, i promise.
bored at work? yeah, it must suck being the only rapper in ya office
i'mma put u underground where u belong & trust, u'll see ghosts
Nope is getting pissed at this nigga, for getting away with free posts
Regular Member




Posts

: 116


Location

: CANADA


Power Points

: 128

---


-----------------


Battle Record

:


(7/2)



Dont let my name fool you, my flow is december
Only reason you joined is cause R like it on top of a member
This bitch nig is shorter than mixed midgets
Keep track of the losses cause thats the only time Kid ever gets six digits
cos ur a skilled shit talker but u need to develop more with text
think about it, u peaked beating newbies and some fallen vets!
and to be real with you, really this is somethin u just need to know
u are one of the dopest, top 3... ...on a site that fell of years ago
His own city peeps want Raga burned like a stack of tires
Nuff said, consider lil Dakota saved; and this nigga the "Man on Fire"

Member





Posts

: 55


Power Points

: 64

---


-----------------


Battle Record

:


(5/2)



Member





Posts

: 55


Power Points

: 64

---


-----------------


Battle Record

:


(5/2)




i'm an oblivion.. sorta like a road block, make Osama just pause
coz he thinks he's fly.. by tryna be the hip-hop Santa Clause?
audio heads stick to mics, on text your luck's tough
we know ya don't get pu**Y, so like ya siggy just 'shut the f**ck up'
i know my shit's pretty half-assed, but Osama won't win, i promise.
bored at work? yeah, it must suck being the only rapper in ya office
i'mma put u underground where u belong & trust, u'll see ghosts
Nope is getting pissed at this nigga, for getting away with free posts
cos ur a skilled shit talker but u need to develop more with text
think about it, u peaked beating newbies and some fallen vets!
and to be real with you, really this is somethin u just need to know
u are one of the dopest, top 3... ...on a site that fell of years ago
This was a so-so battle, Raga has some fly shit and osama flied too much.. Not feeling most of the setups but enjoyed reading
V/raga.......See you on the finals with me
Team RB




Achievements

: NLC 2010 Winner
5 + consecutive wins
BOTM



Age

: 27


Posts

: 333


Location

: Lalitpur


Power Points

: 688

---


-----------------


Battle Record

:


(12/1)



overall a weak battle here i was expectin some werdplays from both you. Was some punches there and raga edged this barely with that santa clause hiphop shit but u both sorta fell off, this is semifinals yeah.
V-raga,

Regular Member




Posts

: 134


Power Points

: 365

---


-----------------


Battle Record

:


(1/0)



Raga4death goes to the finals
Osama thanx for participating
Closed
Heavyweight Member




Posts

: 427


Location

: Your Mom


Power Points

: 136

---


-----------------


Battle Record

:


(0/1)




---
Permissions in this forum:
You
cannot
reply to topics in this forum